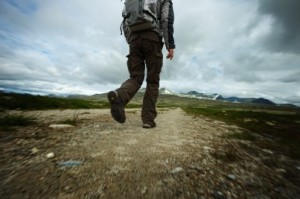 At the beginning of June when I made my decision to walk 800 km on the Camino de Santiago in 2014, I had to take an honest look at the fitness and training involved to complete the walk. Things like:
My Camino Fitness Goals?
My exercise history and my current fitness level?
My ideas and perceptions about myself and exercise, as I close in on 60?
The exercise types, and activities I prefer, and did those include long distance walking?
Could I commit to the time and effort?
I drafted the short survey that I shared in my last blog post, and answered the questions.  Here is what I found:
1)   I want to enjoy my walk on the Camino de Santiago. This means I must build up a fitness level and foundation which allows me to sustain walking an average of 20 km a day for 40 days.  I must develop an exercise regime which combines cardiovascular, strength, and flexibility workouts.  I want to start slowly and build my fitness level up over 10-11 months.
2)   In June I considered my fitness level as "being mildly out of shape".  My lung capacity was low, and walking 3 kms at 10 min /km pace would tire me. I knew building up the required fitness level for the Camino trail would be a challenge, but I have a long exercise history.  I was a runner for 20 years and have trained for and finished a marathon.  My longest distance walked was 36 km in one day during a 2 day 60 km walk for breast cancer.  I have a proven track record for achieving my exercise goals.
3)   My exercise mantra is "no pain, no gain".
I have been training for walking the Camino trail for nearly 3 months now.  I started slowly building a fitness foundation by focusing on 2 main exercise types:
1)    Walking & slow running (cardiovascular & leg strength)
2)    Yoga (flexibility, and strength training)
I log my training sessions religiously using Training Peaks both their on-line and mobile applications.  The mobile app records my walking distance, time, calories burned and the on-line app is where the workout information gets stored.  Weekly goals and daily records of my progress aid me in making decisions on increasing and adjusting my work out routines.
To date I have logged 71 hours of walking and Yoga sessions, an average of 6 hours per week.  I have walked 125 km's and have executed many dozens of standing, balancing, arm-balancing, inverted, backward-bending, twisting, forward bending, sitting, and reclined yoga postures.  I am feeling healthier and continue to increase my walking distances.
It took me 3 months to achieve my first level fitness foundation.  This is my starting level which I will build up achieving the following goals over the next 8 months:
1)    Exercise consistently 6 days a week
2)    Complete a 20 km walk each week
3)    Practice Yoga 6 days a week
4)    Complete my Yoga instructor certificate before walking the Camino
5)    Big gain, little pain.
Join me on the journey. Are you ready to put in the work needed to complete the Camino? I'd love your feedback. And don't forget to leave a link back to your own blog too if you have one, via the commentluv feature here on the site.
Buen Camino,
Marion