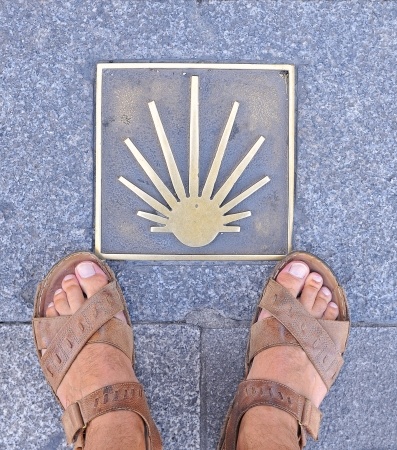 Like Winston Churchill, I don't like worrying in advance about events or activities. I start with understanding the goals, challenges and expected outcomes and then plan for success.  That is the reason I developed a formal training plan for achieving my Camino goal of walking an 800 kilometer route to Santiago de Compostela in 40 days. Here are the 10 Steps I followed in creating and maintaining my training plan:
1.   I documented my goals, and constraints.  The goal was to comfortably walk the 800 kilometers to Santiago de Compostela in 40 days.  The key is to start the route with a good level of fitness so I can enjoy the journey.  I had to determine a realistic amount of time I could spend each week on exercise considering my time constraints:
Demanding full time job with travel.
Family and social commitments.
I calculated that 12 hours a week was the maximum time I could spend on exercise.  The target for my training plan was the ability to complete a 20 km walk each week, and practice yoga 6 days a week for at least 4 months.
2.  I then completed a fitness survey to understand my current fitness level, attitudes toward exercise, and my history of maintaining challenging exercise programs.
3.  I documented my requirements for an exercise training application and did an evaluation of existing mobile, and internet applications available.  My requirements were:
The solution must have a mobile application which I can use on my iPhone to capture in "real time" my walking distance, speed, duration, route, average pace, calories burned.
The solution must have the ability to create a baseline training plan, and be able to capture actual exercise data, and measure actual performance to the baseline plan.
The solution must have an internet portal, so that data can be entered from any computer or location.
The solution must provide performance reporting.
The solution must have the capability to download data to Excel.
The solution must be able to post to social media sites.
4.  I chose TRAININGPEAKS as my solution, and set up an account.
I upgraded to the premium service, to use the advance planning features.
The link to their site can be found by clicking here.
5.  I downloaded Walk Tracker Pro their mobile GPS training application on my iPhone.
| | |
| --- | --- |
| 6.  I created my baseline training plan in TRAININGPEAKS, using an average of 10-12 hours per week. | |
| | | |
| --- | --- | --- |
| 7.  I entered my weekly goals and exercise plans and started capturing exercise data.  Walking data is captured through the mobile application automatically, and Yoga data I enter manually. | | |
| | |
| --- | --- |
| 8.  I review my training results weekly through my dashboard, and decide whether to adjust my baseline training plan. | |
9.  I add comments to my baseline training plan, indicating areas where I can make improvements or add general observations for the week.
10.  I post training results to Facebook when I want to share my training accomplishments.
Updating and reviewing my training plan takes me less then an hour a week. No advance Camino worry now.  With advanced thinking, planning and a great tool, I have mitigated my risk and have a plan for success.  I think Winston would approve.
Send me your comments. Don't forget to leave a link back to your own blog too if you have one via the commentluv feature here on the site.  I would be happy to hear from you and help you with your Camino training planning.
Buen Camino
Marion
"Let our advance worrying become advance thinking and planning".