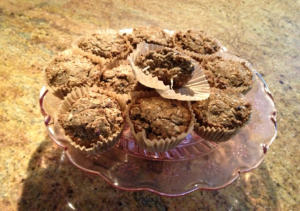 Keep your energy levels up during a long exercise day (more than 1 hour) by keeping healthy snacks around.  On the weekends during for my Camino training I tend to have long walks and yoga sessions exceeding 3 hours in total.  The best time to energize your body is within 20-60 minutes after you have finished a long workout.  This is the time when your body will optimize its processing of protein and complex carbohydrates to support your energy consumption and cell building.  I know if I don't eat right after a workout I usually don't feel like eating at all if I wait too long.  I carry raw almonds, fruit and High Protein Banana Coconut muffins with me when I know I won't be home after a workout.  If I am home I will usually make a Protein / Carb smoothie and follow-up with fruit and yogurt.
I have included my recipefor Marion's Camino High Protein Banana Coconut Muffins.   The recipe is also gluten-free.  Muffins are easy to carry with you when you are exercising, or out and about after a work-out.  You will find some other delicious recipes on my Recipes page by clicking here.
I have just completed working on an illusion knitting "Buen Camino" scarf pattern. "Buen Camino" is the greeting used for and by pilgrims walking the road to Santiago de Compostello. Illusion knitting is a fun technique where you can only see the "hidden" words or images when looked at from a specific angle (side, front, below).
The pattern I have developed needs to be viewed from the side to see the hidden "buen camino". I used the Camino Trail colors -golden yellow and royal blue.
Interested in knitting your own Camino scarf?  Just visit my Facebook page, locate the 'Free Camino Scarf Template' tab, 'Like' the page and you will get the link to download the template FREE! Don't forget to share your pictures of your scarf on my page too