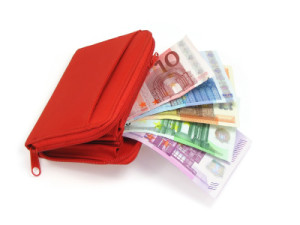 In a previous blog post, I received 5 great questions about training for and walking the Camino de Santiago.  One of the questions was how much cash to take on the journey. Below are my 4 recommendations on how to budget for the trail.

1.  If you are walking the Camino Frances, there are many ATM's along the way.  I have seen recommendations for carrying at least 3 days of expenses in cash.  Below is a table which shows how much cash I will carry with me, as well as the total cost of the trip.  This would include travel, lodging, food, emergency stash, and miscellaneous purchases and costs.  You will always be able to find an ATM within 3 days of walking (more frequently in many areas).   If your bank belongs to the Global ATM Alliance, you can get your fees waived.  You may not be able to find a Barclays or other partner bank ATM along your route so be prepared to pay ATM fees –averaging 2 Euros each time. In regards to your bank card (ATM Card), it is a good practice to advise your bank how long and where you will be traveling.
2.  Along with your ATM card, bring your credit card and don't forget to call your bank and advise them on that as well.  I have had my credit card frozen before when my bank suspected fraud because there were charges made outside the country.  I have seen posts indicating that some small shops do not accept credit cards since they do not want to pay the fees. Ensure your credit card has a chip so it can be used in Europe, and don't forget your PIN.  Most North American cards are chipped now but I was caught in Europe a few years back not being able to use my credit card.
3.  Don't bring traveller's cheques. They are harder to use, especially in small towns.
4.  I always carry a small emergency stash separate from my other cash, which I can use if necessary.  The emergency could be purchasing a great item and shipping it home or having to fill an emergency prescription or replace a piece of clothing that was damaged or lost.
Here is my budget estimated for my 40 day Camino trip in Canadian dollars and EUROs.  This shows how I calculated the amount of cash (240 EUROs) I will be carrying and replenishing on the average of every 3 days.  I do not have to carry my lodging expenses since we are using a travel company that supports self-guided walking holidays and will take care of our lodging bookings and payments.
| | | | |
| --- | --- | --- | --- |
| Travel Expenses Category—40 Day Camino Trail trip | Cost in CAD$ | Cost in EUROs | 3 days of Exp. & emergency stash |
| Travel Costs-Flight, Train | $1100 | 786 | Paid up front |
| Lodging (incl. breakfast), baggage transfers (Macs Adventure) | $3700 | 2643 | Paid up front  |
| Meals (lunch, dinner, snacks) | $1200 | 857 | CAD$90 EURO 65 |
| Miscellaneous | $600 | 428 | CAD$45 EURO 32 |
| Emergency Stash | $200 | 144 | CAD$200 EURO 143 |
| Total | $6800 | 4857 |   |
| Total 3 days of Exp. & Emerg. Stash |   |   | CAD$335 EURO 240 |
My next post will discuss the final question from Vicki as to whether or not to drink the fountain water along the Camino de Santiago.  There are numerous fountains on the trail available in almost every village or town, added as a convenience for the many pilgrims traveling the route.  There is even a fountain at a winery which provides the choice of water or red wine.  Here is the link to the video cam at the winery.
I'd love your feedback. Don't forget to leave a link back to your own blog too via the commentluv feature here on the site.
Buen Camino.
Marion