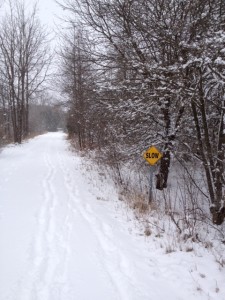 In this blog post I was planning to write about my shopping search for Trekking poles.  However the last 2 weekends have been a snow fest and I have not been out shopping.  This is unfortunate since the more it snows, the more I need those walking poles.  During my last walk I found a tree branch and used that as a walking pole to help me trudge through the snow on the Trans Canada Trail.  Instead I will write about my other major exercise commitment for my Camino Santiago de Compostella training in the form of Yoga warm up and cool down poses for long distance walking.
In June when I started my walking training, I also started my Yoga Instructor Training.  My main reason for taking the 200 hour instructor training was to be able to "deep dive" into the Yoga poses for both stretching and strengthening my muscles, breathing (pranayama) techniques to help build my lung capacity and meditation to help with the mental toughness and confidence to complete the 800 kilometer walk.  My goal was to be able to design a yoga practice to support my training efforts for the walk, and to keep me stretched and limber during the actual 40 days of walking on the Camino trail.
I have been documenting a yoga practice using an application called Yoga Class Plan.   The application has a library of Yoga Poses that you can choose and sequence into a practice. You can also add text to describe how to:
Get into and hold the posture
Transition between poses
Determine what breathing technique to use for the pose
Position your head and neck and what your eyes are doing
Deal with any meditation, intention or other yoga practice related information.
I have included a copy of my draft plan (no text, just pictures & sequence) in this blog post to review.  if you have knowledge of Yoga, and are looking for a good Warm up and Cool down routine for long distance walking, this should help.  I have included a selection of stretching and strengthening postures which focus on:
Stretching (and opening) hips,  IT Band, buttocks, hamstrings, lower back & upper back
Stretching the spine , opening chest, lungs and shoulders
Strengthening core, spine, shoulders, arms and back muscles for carrying the backpack
Strengthening  legs, feet and pelvic/hip muscles for long distance walking
I am still writing the text descriptions as noted above, and I will include a copy on this blog once finished.
I plan on using this Yoga practice every day during my Camino Trail adventure.  I will complete these yoga postures every morning as a warm up for my walk, and again after I have finished my daily walk as a cool down and stretch for my muscles.  If you are walking the Camino in 2014 between May 16 and June 30, please join me.  I am thinking of tweeting the location of my yoga warm up and cool down sessions each day.  What do you think?  Join me in stretching, strengthening and setting the daily intention for your walk.  Yoga is more fun when you have a group enjoying the practice together.
I'd love your feedback. Don't forget to leave a link back to your own blog too if you have one via the commentluv feature here on the site.
Buen Camino and Namaste.
Marion