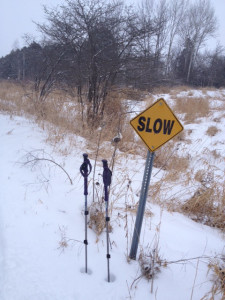 I have been training and walking in the snow using trekking poles for the last few weeks to prepare for the Camino de Santiago next year.   It is not formally winter yet here in Canada, but the cold and snowy conditions are definitely here, and are early.  I think that winter training will prepare me for any harsh weather conditions on the Camino trail.  Mental toughness and conditioning are required to deal with:
Deep snow
biting freezing winds
frost bitten, cold limbs
freezing rain or blinding snow falls,
icy, uneven surfaces
multiple and heavy layers of clothing
On December 1st, I finally bought a pair of trekking poles.   I was tired of slipping and trudging through the snow without the support of the poles.  I bought the Black Diamond Women's Trail Shock Trekking poles   (well described in this YouTube video below).  For those of you reading this blog via email, please click here to access the video.

These poles match the criteria I had documented in my blog on Nov 19th.
I had to give up a lighter weight to get the shock absorbers, but this will lessen the stress on my wrists and elbows.  The poles are reasonably light and clipped on my day pack the pair will only weigh 1 lb. and 3 oz.
They have non-slip foam grips, including an extended grip that will allow for slight variation in heights without having to adjust the poles.  Gripping lower on the extended grip is a great feature.
The wrist strap is fully adjustable with a plush lining for moisture wicking and providing a softer surface when rubbing against the wrist.
The poles have the Black Diamond "flick-lock" mechanism which is really easy to adjust, even with cold fingers. (I've already proven this).
The poles collapse to 24" which means they can fit easily in or clip onto the outside of my day pack.
The poles have carbide tips, the rubber tips were not included and were not available at the store where I bought them which is both an inconvenience and I think a "money grabber" tactic from Black Diamond since all hikers will need both a carbide and rubber tip for their poles.
I had to buy the compactor snow powder baskets, since these were not included.
Here is the link to the Black Diamond Specifications.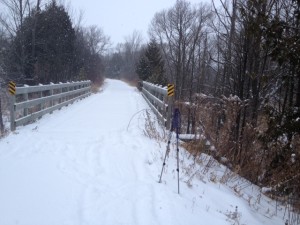 These poles are light, and the shock absorption is noticeable and appreciated.  I have used them to:
1.  Test the depth of the snow.  There were a few surprises in how deep the snow actually was in a few areas.  Still need to buy gaiters.
2.  Test the thickness of icy surfaces buried under the snow.  This has saved me a couple of times from walking into icy puddles, and stopped me from falling on a few slippery icy surfaces.
3.  On the hard packed uneven snow and ice surfaces, these poles have allowed me to walk with confidence and have distributed load  to my upper body including arms, shoulders and back.   I have less twisting of my ankles, and slide less due to the support of the poles. The shock absorbers ensure my joints are protected from the jarring of the poles hitting the hard and varying surfaces.
4.  I am getting a whole body workout, actively using my upper body.  I am not leaning forward under the weight of my backpack, since the poles keep me more upright.
There is definitely a solid case for using Trekking poles in the snow.  My walks in deep snow are much more enjoyable, and less tiring.  Sometimes I walk with a stride using the pole with the opposite the arm and leg.  This is the typical hiking technique.  Sometimes I use both arms simultaneously with the poles, similar to a skier when I need to propel myself over a rough surface.  I have been enjoying my adventures in the snow, and my trekking poles are pulling their weight (or should I say my weight).
I'd love your feedback! Have you tried trekking poles? Let me know how they worked for you! Don't forget to leave a link back to your own blog if you have one, via the commentluv feature and if you haven't already done so, sign up to receive my blog via email. You'll find the sign up box on the site in the sidebar.
Buen Camino.
Marion