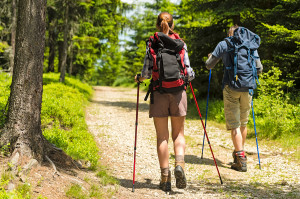 Now that I am training with my backpack and hiking boots on longer distances and varied terrain trails, it is time to add trekking poles to my training gear.  I was debating when to start training with the trekking poles, but the first winter snow, and the additional weight of my backpack convinced me to start shopping for new poles.  When I sat down and evaluated the benefits of using walking poles it was a "no-brainer" decision.  The 5 benefits of Trekking poles are:
1)      Improves your balance and provides extra stability on any terrain by increasing to 3-4 points of contact with the ground.  This is especially useful on uneven terrains such as a creek crossing.  Having improved balance and stability also gives you increased confidence on rocky, slippery, uneven terrains.  Several years ago when I hiked the Camino Inca, I used walking poles on the mist-shrouded slippery rocks during the steep downhill trek from Dead Woman's Pass.  I have since been convinced me of the benefits of trekking poles for improved balance, stability and confidence on any trail.
2)      Reduces stress and load on joints by engaging your muscles (abdominals, pectorals, biceps, etc.) to preserve the knee and hip joints.  This helps reduce fatigue and provide a healthier full-body workout.
3)      Redistributes the weight and load of your backpack, head and torso from your knees, hips and back to the poles, abdominals, arms and shoulder muscles.  This redistribution of load helps to reduce fatigue and ensures more equal distribution of the weight and load across the body. This can reduce the load and weight on key joints by almost 30%.
4)      Promotes more upright and proper posture especially with your backpack causing you to lean forward.  This reduces fatigue to your back and keeps the chest open for greater lung capacity and deeper breathing.
5)      Helps prevent injury by ensuring weight and load is more equally distributed across the body, reducing stress on joints and providing improved balance, extra stability and confidence on any terrain.
I have documented the 8 requirements for trekking poles which I will evaluate during my shopping search:
The Shaft materials for lightest weight is carbon fiber
For hand grip and wrist straps I want non-slip foam grips with a moisture wicking strap
I know it adds weight but I need shock-absorbers for reducing the stress on my elbows, hips, knees
The poles must have full compactability and easily fit into my day pack
The poles must have great adjustability and be easy to collapse and deploy
The tips must be carbide and also have rubber tips included
The poles must be all season and have trekking and compactor snow powder baskets
I am not cost sensitive and I am willing to pay for good quality poles.
In my next blog I will provide the outcome of shopping for my new trekking poles. In the meantime, I would love your feedback! Please leave a link back to your own blog too via the commentluv feature here on the site.
Buen Camino
Marion