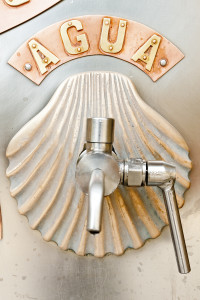 Buen Camino. Folks–this is it, the real adventure begins. Marta and I leave this Friday May 16 for our 800 km Camino de Santiago walking adventure. It has been 50 weeks since I started my fitness training in preparation for this challenge. The journey to train and prepare for walking the Camino has been exciting and physically hard but delivered many rewards:
1. I focused on completing a Yoga Instructor training course to ensure I had enough stretching, toning, and strengthening poses for my walking muscles. By deep diving into a yoga education I was able to improve my understanding of anatomy and yoga technique, and work on the specific muscles I need for walking long distances. I leave for my journey with a Camino-specific yoga practice that Marta and I will use every day. Thank you to Emilie Closs at Yoga Flow and Fitness  for sharing your deep knowledge of Yoga, your patience and great yoga instruction. I will finish my Yoga Instructor exam in July when I return. Namaste.
2. I started walking in June 2013 and initially I could sustain 3-4 km walks, with running shoes, no backpack or poles. I was out of shape and determined to improve my lung capacity and muscle strength. I continued to increase my pace and my distance, focusing on speed and lung capacity.
After 5 months I added a 5-10 kg backpack, walking poles, hiking boots and increased my walking distance. I also added snow and ice and major endurance conditions. I cared less about speed and more about building long distance endurance.
In January I worked on my body's ability to sustain daily exercise over the long term by walking at lunch hours and any other time I could squeeze into my schedule. I continued to work on increasing distance, and the endurance to work my body every day with both yoga and hill and varied terrain walking.
3. Adopting a "just do it" mindset and completing my training plan (which I captured in the Training Peaks application) has built the confidence I now feel. I know I can complete the 800 km walk with some pacing, patience, endurance and daily (yoga) practice. And of course good hiking boots, socks, backpack, hiking poles, raingear, quick dry and base layer clothing and numerous gadgets including headlamp, solar chargers, digital camera, binoculars, iPhones, iPads, WIFI speakers and numerous supporting apps.
4. I want to thank my family for supporting me on this quest especially during the cold, dark, icy, snowy days of our Canadian winter that went on for 5 long months. Love you all.
5. I would also like to thank AdventureBuddies. Their DVD gave me good advice on how to use my hiking poles efficiently. I highly recommend reviewing their techniques for using hiking poles properly.
6. Thank you John Brierley for writing such a thorough and informative travel book. A Pilgrim's Guide to the Camino de Santiago is our main tool for planning, navigating and walking the Way of St James. Well done Mr. Brierley.
7. Thank you Marta for being brave and adventurous enough to agree on walking with me, and for recommending that we "slack pack" using Macs Adventure.  They will provide a little help along the way with lodgings and moving gear we don't want to carry each day. Our focus will be on enjoying the journey each day, with just enough physical and mental challenge to test our endurance along the way. We want to be pilgrims on a journey that promotes spiritual and personal growth at a sustainable pace.
8. Marta and I will keep "connected" as we walk the Way of Saint James so that our family and friends can travel along with us. Posting photographs, videos and our travel updates and news to Facebook (please 'Like' the page!), eCamino and this blog will be the means to that end. I have had fun experimenting with different social media sites and apps which i mention in my last blog.
I am proud that I have completed the first phase of my Camino journey which was the training and preparation for our walk. Now it is time to walk 800 km on the Camino de Santiago Compostella with my good friend Marta. I will let everyone know how well my training strategy worked. I am thrilled to have this opportunity for adventure.
Buen Camino friends, the best is yet to come. Join us on our journey! I welcome your feedback as well. Please leave a link back to your own blog too if you have one, via the commentluv feature here on the site.
Marion