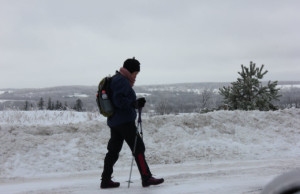 It has been a  solid 2 months of walking in nasty winter conditions of varying cold arctic winds, heavy snow, ice storms, and slippery, dangerous surfaces.  Last week I had an "I hate winter meltdown' caused by feeling like an arctic vampire; living without sunlight and warmth and considered moving south.  It was time to recalibrate, get perspective and put a positive spin on the winter blues.  After all I am Canadian, and there are still 2 months until spring so I better "get a grip" and remember why I am training in these harsh conditions in the first place – to prepare me for the endurance required on the Camino!
Okay firstly, the less pleasant the conditions and outlook for walking are, the better it will prepare me mentally for the endurance required for long distance walking.   Endurance is defined as the length of time that a person can perform work /exercise of a given intensity.   In harsh winter conditions, I have improved my physical endurance since the intensity of walking in deep, uneven snowy and icy surfaces must be the equivalent of hill walking on flat terrain and have exponential endurance benefits on the hills.  My fundamental purpose for long distance walking in all conditions is to increase my cardiovascular and muscular endurance with the end goal of achieving a peak fitness level for walking the Camino Santiago De Compostella.  Okay this is the positive perspective I am striving for. Winter conditions are accelerating the benefits of my endurance training both mentally and physically.
I have only 15 weeks of training left before I leave for my Camino adventure, so it is natural that along with the winter blues, I am experiencing Camino readiness anxiety. To relieve my readiness anxiety I have done an endurance training analysis and have adjusted my training plan to focus on specific exercise areas as needed.
Here are the 3 basic endurance elements that define Endurance Training for my long distance walking goals:
1.  Develop Strong Hiking Specific Leg (and other) Muscles.
Identify and focus on the muscles I need to strengthen for hill and other challenging conditions.  I am developing several Yoga practices that focus on strengthening and stretching specific muscles.  I will share these over the next several blog posts.
2.  Develop the ability to hike day after day means sustainably increasing your long distance endurance over the long term.
This requires consistent multi-day training of varying intensities.  I need to do some walking every day, alternating long and short walks.  With the time constraints of long work hours and the related travel I need to focus on lunch time, mornings and just being creative to seize any available time.  This element requires maintaining increasing levels of endurance training over the long term by adding duration and intensity in small, sustainable amounts.
3.  Develop the ability to maintain an energy reserve that you can rely on to finish long walks each day.
This requires the practice of pacing yourself throughout the day.  This is a combination of hardening the body through balancing both muscular and long distance endurance training.  This element requires listening to your body, having mental toughness and being able to juggle mental and physical energy reserves to sustain your efforts each day.  Balancing nutrition, rest, general health and aerobic capacity factors add to the complexity of this endurance element.
The art of endurance training is finding the balance between general endurance which is the ability for the whole body to endure exercise with less fatigue and specific endurance which is the ability to reduce fatigue in specific exercise areas and conditions.  In order to reduce my Camino readiness anxiety I am adjusting my training plans in an effort to achieve this balance and obtain the fitness and endurance levels I need to enjoy my Camino adventure.
It's also important to make sure you are keeping your body well fueled during these strenuous workouts. Please check out my delicious recipe for Camino Oatmeal, Spelt, Banana, Chocolate Protein muffins and let me know what you think! You will also find some other delicious recipes here.
To wrap up on a positive note it has been proven that increasing endurance releases endorphins which result in positive, happy folks.  That is why Camino Pilgrims always look so happy.
I'd love your feedback!  Please include a link back to your own blog too if you have one, via the commentluv  feature here on the site.
Buen Camino
Marion