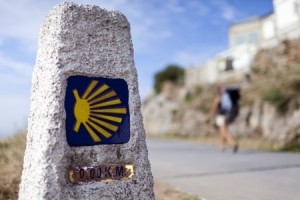 There are less than 7 weeks before Marta and I leave for our Camino de Santiago adventure.  What remains are these 5 short term (2 month), final preparation activities that I thought might be fun to share with you.
1.      Detailed planning of the route and sight-seeing activities.  Marta and I will each plan half the trip.  I have created a spreadsheet which includes:
Preferred route each day
Preparations for that day's hike
Key points of interest (historical, cultural, geographical)
Where we will be staying
Recommendations for breakfast, lunch and dinner
Journaling area to capture the days insights and adventures
2.     I put my Spanish language training on hold in February and decided to use a "crash course" approach starting mid-March.  I am using both the earworms (musical brain trainer) iPhone app, and a free on-line training program called Duolingo.   If you are a technology geek like me it is a fun and fast way to learn basic Spanish skills on your computer, tablet or smart phone.  Earworms uses music with repetitive Spanish words and phrases.   Duolingo uses an interactive gaming / video approach.  In 2001 I had a Spanish tutor for 2 months prior to a trip to Peru and Bolivia.  What approach do you think will provide me with better Spanish language skills; a human tutor, or a virtual tutor?
3.    I am assessing my exercise training levels to ensure that I am not tired when I leave for the long walk to Santiago.  I am completing some walking and Yoga activities every day.  The critical decision is how much training will sustain the fitness level I have developed over the past 9 months, without tiring or injuring myself this close to the trip.  I am focusing on specific endurance training which is the ability to reduce fatigue in specific exercise areas and conditions, including my feet, shoulders, back and core muscle strength.  In the next blog post I will share with you my Yoga practice for stretching and strengthening the shoulders and back.  This will prepare me for carrying my larger, heavier Camino backpack.   For my walking challenges, my focus is on hill training.   I have a 12 km route which has 3 grueling hills to conquer.   Balancing my work, related travel, family and social commitments, yoga instructor and exercise training plus the preparations for the Camino was not working.  I was feeling burnt out last month due to the effects of training in cold and severe winter conditions, and the lack of balance in my life.   I have re-calibrated and put several major activities such as my yoga exam on hold until I finish the walk to Santiago.
4.     I am finalizing my technology requirements and purchases:
Phone plan while in Spain
eBooks for my iPad
Tunes for my iPhone
Chargers, adapters,  including solar sources
My husband is buying me a new "point and shoot" camera
Apps for posting to Facebook, twitter, my blog
Any other cool apps or gadgets (Camino, Language, GPS, etc.)
5.     Other personal / fun stuff:
Picking knitting projects (socks probably)
Meditations to complement my yoga practices
All personal expenses, finances to be paid while away
Family and Friends – commitments (birthdays etc.)
All of my long lead time activities are now completed:
1.     Our Itinerary is planned and paced to complete the 800 km Camino Frances route in 40 days.
2.     All travel is booked, including flights, and lodgings with Mac Adventures.   The only expenses remaining when we walk the Camino will be food and any other purchases such as souvenirs or supplies.
3.     My passport is renewed.
4.      I have my pilgrim credential from the Canadian Company of Pilgrims of the Way of Saint James.
5.     All my major outfitting –shoes, backpack, rain gear, sandals, poles, hat, and most clothes are recycled or purchased and travel ready.  I have my packing list finalized.
6.     I had a medical check-up.  A few surprises but my health is travel ready for the Camino and I know what to pack in my first aid and medical kit.
7.     I have completed 9 months of my training plan which included walking and Yoga.  I feel ready physically and mentally for the Camino.
8.     I have finalized the Yoga sequences and routines for my trip.  I have committed to Marta that I will stretch and restore her muscles and "prana" with a Yoga practice at the start and end of our walks each day.
Ralph Waldo Emerson said that   "Life is a journey not a destination".   This past year training for the Camino has taught me to enjoy the journey with all its twists, turns and surprises.  I have enjoyed the planning, the training, the dreaming, the realization of ideas, and the sense of accomplishment that comes from a job well done.   The actual walking of the Way of St James is the continuation of a journey that started almost a year ago.   It will lead to another ….  the journey continues ….
I'd love your feedback. Don't forget to leave a link back to your own blog too if you have one.
Buen Camino,
Marion