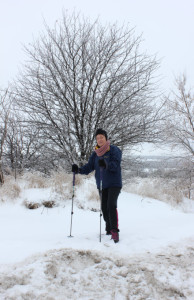 As I look ahead to 2014, I marvel that it will be the Year that I celebrate turning 60 and becoming a true pilgrim (a wanderer or traveler) for 40 days of walking and exploring the Camino Santiago de Compostela.  Last year at this time I had no plans for walking the Camino.  I was originally planning a 2 week trip to the North West Territories with friends to celebrate my 60th. In the early spring I had a change of heart.  I cannot remember why the Camino Trail became my new travel choice but my friend and fellow walker Marta was as excited as I was and the decision was firmed up.  I am proud of how far I have progressed in 2013 on my training and preparation for my Camino sojourn.
Only 9 out of 22  of my resolutions for 2014 are Camino related (Items 1,2,7,8,9,11,12,13,17). The remaining resolutions support:
My yarn addiction
My constant struggle to de-clutter and simplify my life
Remembering to focus on my key priorities and values:  family, friends, kindness, respect,  balance, accountability, good health and enjoying life
Marion's 2014 New Year's Resolutions
Complete my 200 hour Yoga Instructor Training by April 2014
Complete 2 Yoga practices each day during the Camino Trail (before and after walking)
Learn how to weave with my new Knitters Loom and use up some of my yarn stash
Finish 10 yarn projects from my stash before I buy any new yarn
De-clutter (and simplify) with small jobs.
Adhere to the 1 minute rule-always finish a task that takes less than 1 minute e.g. put umbrella away, hang up coat
Follow and complete my full Camino training plan by May 16.  Keep plan status up-to-date.
Walk the Camino Trail in 40 days-starting May 19 and finishing by June 27
Keep my Camino blog posts current before, during and after the trip
Complete a 10 minute tidy up at the end of each day (will make a difference)
Lose 13 pounds (lost 12 in 2013) to reach 25 pound total
Cook and eat healthier-more protein and fiber (keep a log) as part of my Camino Training
Have a collection of 25 (healthy) recipes -posted in my blog by the end of year
Be in St John's NFLD on my 60th birthday (Oct 9 2014)
Plan a small accomplishment each day, both work and personal. No matter what else happens each day feel good about the small accomplishments.  Bring some balance and perspective to the day.
At least 15 minutes of meditation each day
Once I finish the Camino, begin piano lessons again
Call good friends more often (keep a log and cycle through)
Remember that what you do every day matters more than what you do once in a while
Be kind everyday-at least one good deed a day
Lighten up-Life is too short to be so serious (Remind myself each day)
Focus on family.  Speak to at least two family members by phone each week. Keep in touch.
To kick-off New Year's Resolution item # 13, here is the link to 3 new healthy recipes:
Marion's Camino Spelt High Protein and Fiber Muffins with Banana, Coconut, Dark Chocolate
Marion's Camino High Protein and Fiber Muffins with Dark Chocolate and Fruit
Marion's Camino Lemon Chia Seed Protein Loaf
I hope everyone is excited as I am to welcome in 2014. I'd love your feedback! And don't forget to leave a link back to your own blog too if you have one via the commentluv feature here on the site.
Happy New Year and Buen Camino,
Marion